null

Harnessing Edge Computing
for Business Growth
Edge Opportunities and Goals
Industry organizations are moving fast to capitalize on the wealth of new data that's being created. Edge computing can help you fuel business growth, reduce latency, extend your hybrid cloud infrastructure, and capitalize on the power of artificial intelligence (AI) and machine learning (ML).
You also likely have goals for your edge sites, including deploying, upgrading, expanding, and managing and monitoring these compute resources. As with all technology, it pays to understand your full range of options, adopt standards-based solutions wherever possible, and take a lifecycle approach to investment and management.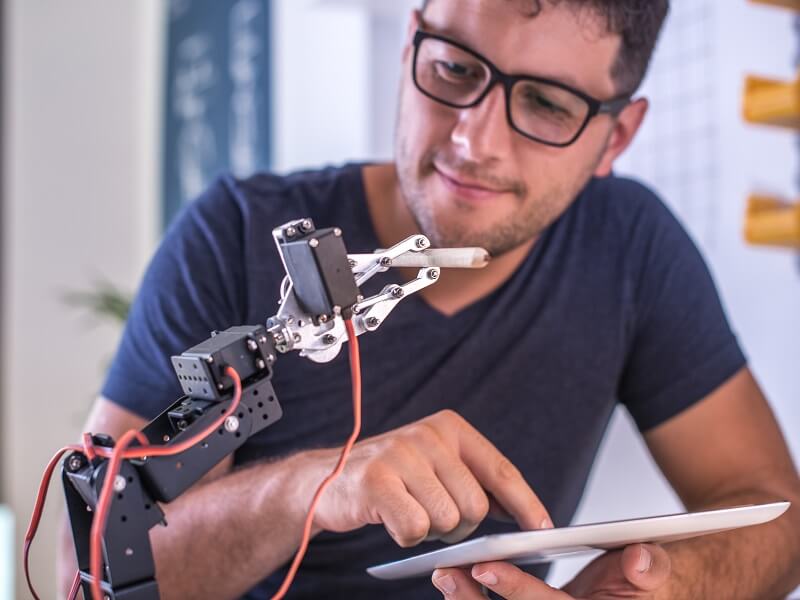 Edge Growth Opportunities
The pandemic accelerated spending on edge computing, as companies invested in digital products and services. Now, it's off to the races. So, where will we see the most edge growth moving forward?
Hardware, software and services: IDC projects that spending on edge compute and storage will soar to $33.3 billion by 2024, as organizations build out their infrastructure. Business will also invest in remote monitoring and partner services to manage edge sites.
Regional adoption: It's no surprise that Asia-Pacific is leading edge adoption, given that region's heavy investment in automation, robotics, and smart applications. Asia-Pacific will have 37.7% of the world's infrastructure edge footprint by 2028. Following fast behind is Europe with 29% of the world's footprint. The United States will represent 20.5%, Latin America 7%, and Africa and the Middle East 5.8%, according to a report from The Linux Foundation.
B2C versus B2B applications: Some 36.5% of the global infrastructure edge footprint will be focused on mobile and residential consumers, while 11.9% will be directed to enterprise IT uses. Communication service providers (CSPs), also known as telcos, will represent another 10.4% of the world's footprint.
Cloud: Cloud growth has soared during the pandemic. Some 86% of IT decision makers believe a hybrid cloud infrastructure is the ideal model, and 46% accelerated investments during 2020, according to a Nutanix study. However, edge growth is coming on so strong, that cloud providers are offering edge capabilities, rightly seeing edge as a competitive offering that could eat into their market share.
IoT: With 5G and edge growth, IoT will take a giant leap forward. Many organizations have devices that can be connected to gain new insights but have lacked the data integration capabilities, processing power, and budget to make this happen. Edge solves for these issues. In the B2C realm, consumers are becoming more comfortable with connected experiences and are willing to give up their data to enjoy personalized services. As a result, both B2B and B2C IoT applications will flourish.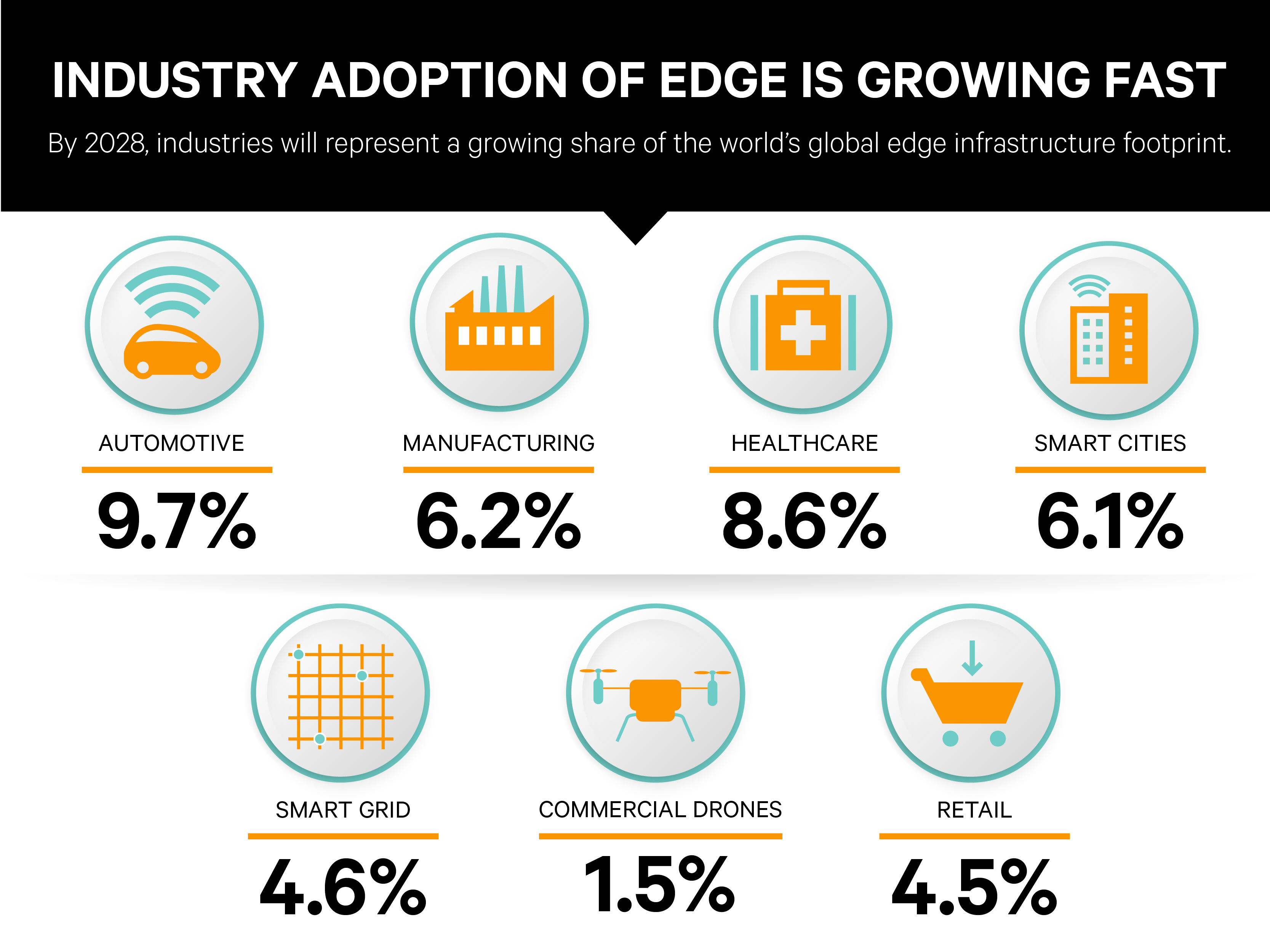 Source: The Linux Foundation
Latency: Consumers are increasingly unwilling to wait. eCommerce studies have documented that even a 0.1 second improvement increases page engagement and sales. Similarly, for life-critical or business-critical applications such as trading, latency means it's game over. The race to under one millisecond will characterize the next few years, with winners and losers. Eventually, near-zero latency will become the industry standard.
Analytics and automation: Analytics, automation, and process optimization powered by AI and ML rely on the ability to perform near real-time processing of vast data sets. Edge computing makes this possible by eliminating the need to transfer workloads to the cloud and enabling almost-instant decision making. In addition, edge computing enables organizations to perform analytics on sensitive data, such as consumer transactions, or health or tax data, while protecting data privacy.
How Latency Harms the User Experience
| Time to load (milliseconds) | User impact |
| --- | --- |
| 0 to 16 | Users are exceptionally good at tracking motion, and they dislike it when animations aren't smooth. They perceive animations as smooth so long as 60 new frames are rendered every second. That's 16 milliseconds per frame, including the time it takes for the browser to paint the new frame to the screen, leaving an app about 10 milliseconds to produce a frame. |
| 0 to 100 | Respond to user actions within this time window and users feel like the result is immediate. Any longer, and the connection between action and reaction is broken. |
| 100 to 300 | Users experience a slight perceptible delay. |
| 300 to 1,000 | Within this window, things feel part of a natural and continuous progression of tasks. For most users on the web, loading pages or changing views represents a task. |
| 1,000 or more | Beyond 1,000 milliseconds (1 second), users lose focus on the task they are performing. |
| 10,000 or more | Beyond 10,000 milliseconds (10 seconds), users are frustrated and are likely to abandon tasks. They may or may not come back later. |
Source: Deloitte

Edge opportunities are seemingly boundless, which will drive significant investment in this sphere. Organizations don't want to be left behind in the race to drive more revenue from the data they already possess.
How Edge Enables IoT
5G and edge computing will unlock the potential of IoT, providing the bandwidth, low latency, and local processing capabilities required to deliver B2B and B2C applications.
It is important because companies are connecting more devices than ever in an effort to gain more insight, enable automation, and create connected systems of intelligence.
" 43 billion – The number of IoT devices there will be by 2023."

Consumers have already seen the impact of IoT with smart home systems, including security, health and fitness wearables, mobile marketing in stores, and retail self-checkout, among other end uses.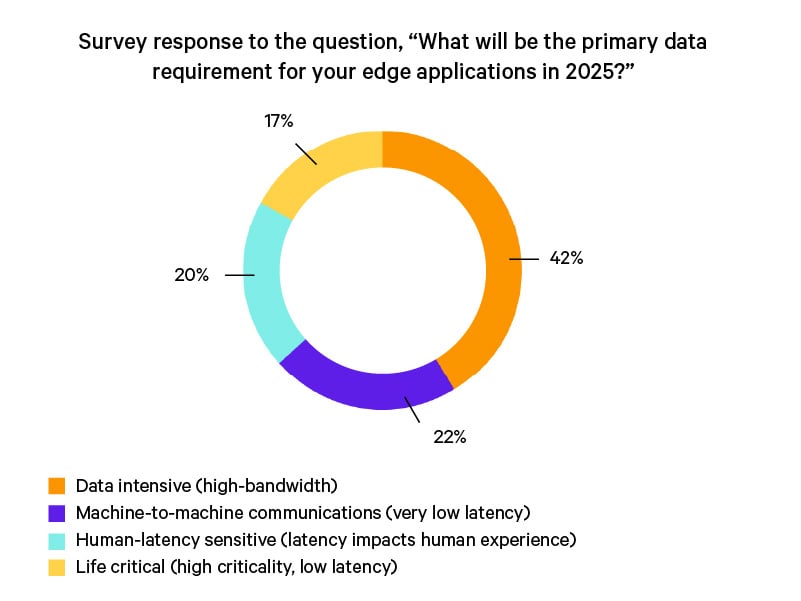 Source: Vertiv Data Center 2025 Report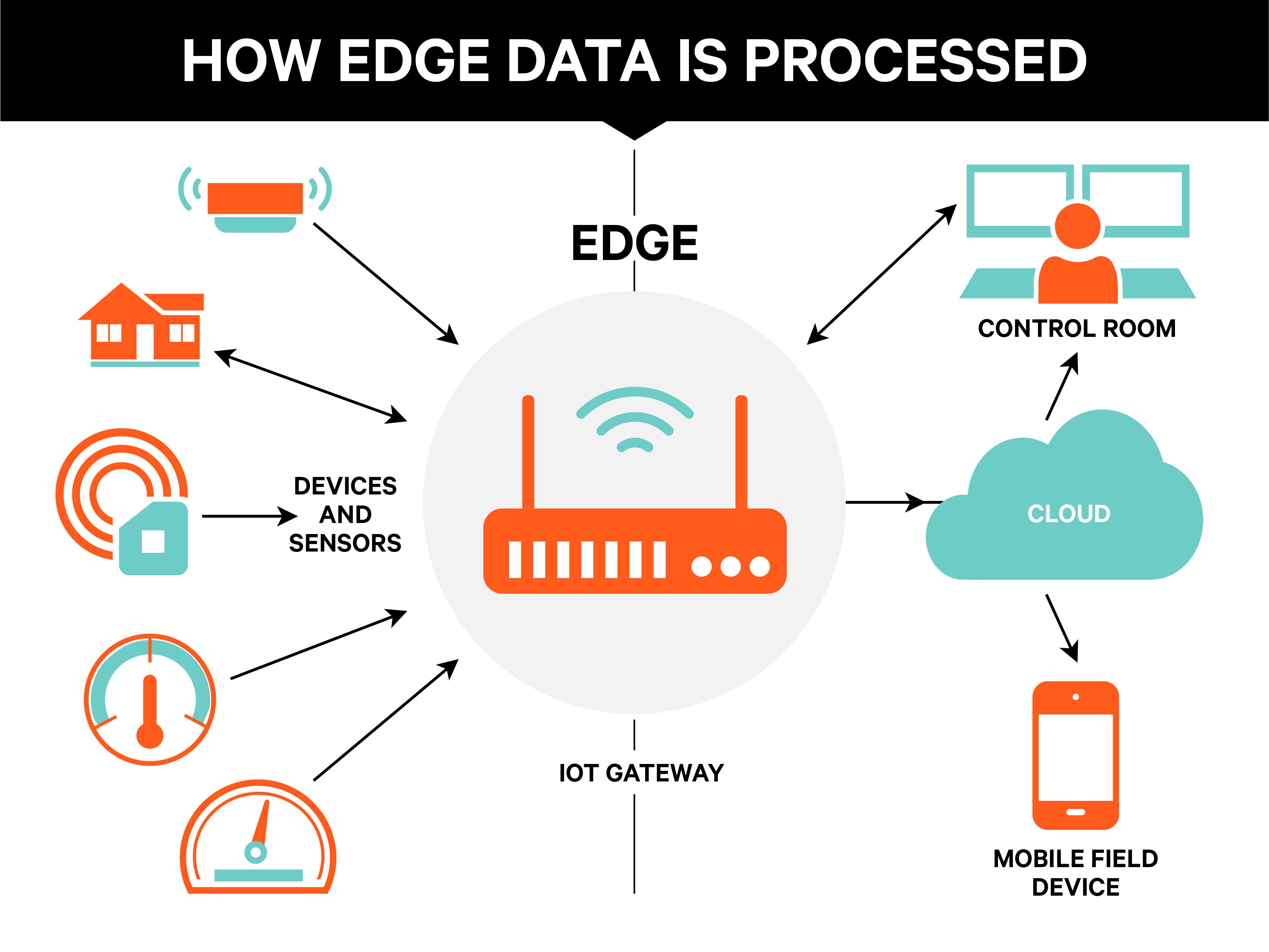 Source: Ez En Route
IoT will have the biggest impact in the world of business and government. IoT has already been operationalized by manufacturing companies to enable automated processes, robotics, and preventive and predictive maintenance. With millions of dollars invested in equipment, IoT can help organizations avoid costly breakdowns or unexpected outages.
IoT sensors collect a wealth of information about the devices to which they're connected, including their airflow, temperature, humidity, chemical composition, level, moisture, motion, velocity, proximity to other devices, water quality, and the list goes on and on. As a result, IoT sensors can create an accurate picture of device performance and surrounding conditions.
Sensors, pervasive connectivity, and lightning-fast processing will enable smart transportation with synchronized lighting, traffic management, and tolls. Smart buildings will improve user comfort and help workers manage and optimize spaces. With smart cities, systems of intelligence will streamline how residents work, play and travel. Autonomous cars will make routine commutes safer and more enjoyable. It's clear that the world will look radically different in just a few short decades as IoT applications become more sophisticated and interoperable.
Product teams can use VR/AR to develop and test new products, collaborating and easily incorporating consumer feedback. Frontline workers in healthcare, manufacturing, and other industries can use VR/AR to access the remote expertise they need to do their jobs.
IoT devices have sensors that transmit continuous information about their health, performance and status. That data is aggregated and processed, either via cloud or edge computing. When processed at the edge, connected systems can leverage intelligence in near real-time. They also can capitalize on virtuous feedback loops, improving processes over time.
"IoT will have a potential economic impact of between $4 trillion and $11 trillion by 2025."

How do organizations use edge networks to enable IoT applications?
Uses smart devices: Sensors collect multiple data points about a device conditions for use with IoT applications.
Implements an IoT gateway: The gateway helps route workloads appropriately, keeping data at the edge or sending to the cloud or corporate data center for processing.
Relies on robust connectivity: High-speed connectivity ensures seamless data transfer with minimal latency.
Uses complex event processing (CEP): CEP systems integrate data, look for patterns, and then take automated actions. These open-source systems run both in the cloud and in edge devices.
Harnesses ML and AI: Your IT team can use existing algorithms or build their own, all with the goal of improving their ability to identify certain conditions and then automate key actions. These capabilities are increasingly being performed in edge devices, rather than just the cloud.
Powers IoT edge applications: Vendors are bundling core capabilities, such as CEP, AI, and other tools into devices, speeding deployment, upgrades, and changes.
Offers offline data storage: With local storage, devices can continue operating in the event of network disruption.
Provides robust data management capabilities: Intelligent capabilities determine which data to collect and process and at which time intervals.
Edge IT Goals
The fast pace of digitization has spurred edge computing growth. As a consequence, IT teams are refining technology strategies to align compute models against business and technical objectives. Here are some common goals you may have for your edge deployments.
Deploying Edge Infrastructure
You want to evolve your hybrid/cloud infrastructure to enable new edge applications. These goals include:
1. Rationalizing workloads: Deciding where to run key workloads based on latency, cost, security, data privacy, or other issues.
Approach: An IT partner can support, identifying unique needs based on the application and developing an overall edge strategy.
2. Creating application profiles: Developing a standard edge infrastructure for different application types brings consistency to deployments and ensures they perform as expected.
Approach: Developing standardized documentation, including specifications, will be key to scaling your edge presence.
Upgrading Edge Infrastructure
You want to support new applications and more data, which requires upgrading your existing edge technology. Your goals include:
3. Ensuring high reliability of your infrastructure: Distributed networks help support your growing business. Maintaining high uptime and throughput of all edge sites is a priority.
Approach: Evaluate line-interactive versus double-conversion UPS topologies, enable connectivity for remote monitoring, and ensure there are adequate resources available for UPS service.
4. Simplifying edge infrastructure: Growth is easier with standardized processes and technology. They help speed ordering, deployment and management.
Approach: Consider standardizing infrastructure wherever possible and ordering equipment that offers built-in flexibility for business growth or adaptability.
5. Quickly implementing new infrastructure to support edge sites refreshes: Advanced technology for data-intensive applications require edge capabilities that keep pace. That means refreshing both IT equipment and the supporting infrastructure that protects it.
Approach: Determine the feasibility of using factory integration services to receive IT-ready infrastructure. Finally, you'll want to determine the availability and skill level of staff or partners to install edge technology.
Expanding Edge Infrastructure
You may want to put IT in new locations, where it's never been before. That means designing the right compute, storage, and networking footprint, as well as selecting the racks, power, and cooling equipment that supports it. Your goals include:
6. Gaining more capacity: Increasing the output at existing sites to support business growth.
Approach: Size UPS units to meet evolving requirements, evaluate heat loads to determine the need for dedicated cooling, and enable connectivity for remote monitoring.
Monitoring and Managing Edge Sites
You'd like to centralize your visibility into – and control over – your edge sites. You want to ensure equipment uptime and availability, while also securing equipment from unauthorized access.
7. Managing a growing edge network: A scalable approach for managing IT equipment will minimize growing pains, while keeping performance high.
Approach: Identify everything that requires monitoring, ensure that power and thermal management infrastructure is equipped for connectivity, and determine that individuals are available to monitor and respond to alerts.
8. Enabling remote management: Closely monitoring the condition of IT equipment will increase its availability, utilization and efficiency.
Approach: Remote monitoring and management software and tools help enable authorized users, limit or lock down operations that can be performed, and monitor environmental conditions and device performance.
9. Managing edge site temperatures: IT equipment increases temperatures, especially in small spaces such as IT closets. If not corrected, excessive heat can harm devices.
Approach: Evaluate the heat load of technology which can determine if you need dedicated cooling. Remote environmental monitoring can help IT identify hotspots and resolve them proactively.
10. Scaling your IT team's talent: It may not always be practical or desirable for IT teams to visit edge sites.
Approach: Utilize remote monitoring and management software for routine configuration, upgrades, and troubleshooting. Consider engaging a local partner to install new technology and service critical infrastructure such as batteries when needed.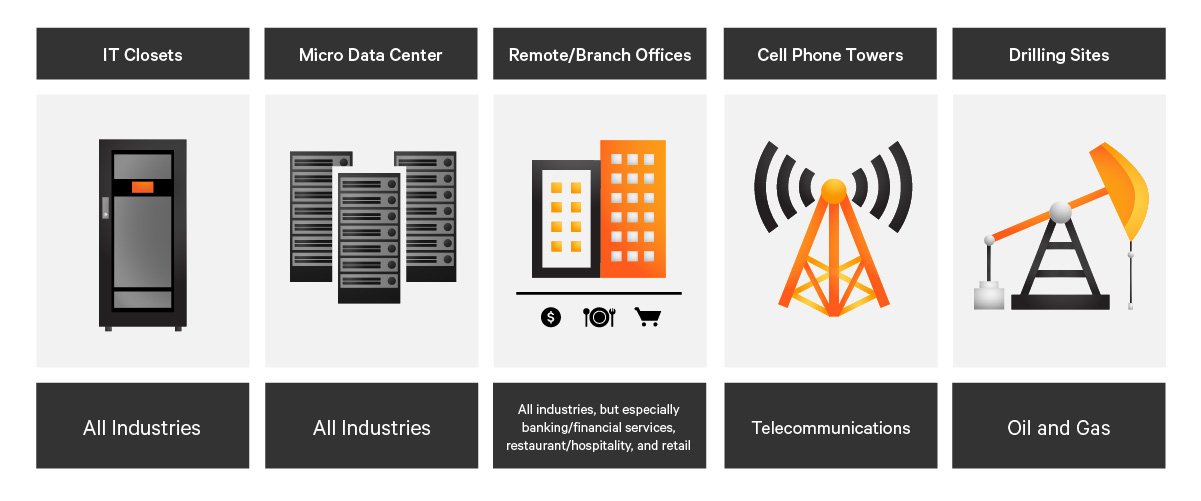 Edge Solutions
IT teams typically want to source and deploy edge solutions in days or weeks. Containerized solutions, such as integrated infrastructure, micro data centers, and prefabricated modular data centers provide powerful compute and other capabilities, while offering speed to market and physical security.
Edge IT solutions integrate cooling and climatic controls, power distribution, and network connectivity. They also may include equipment for physical security, fire suppression, shock absorption, electromagnetic interference protection, power conditioning, as well as UPS or batteries. IT teams typically also opt for remote monitoring and management software and devices to help ensure edge solutions perform as expected.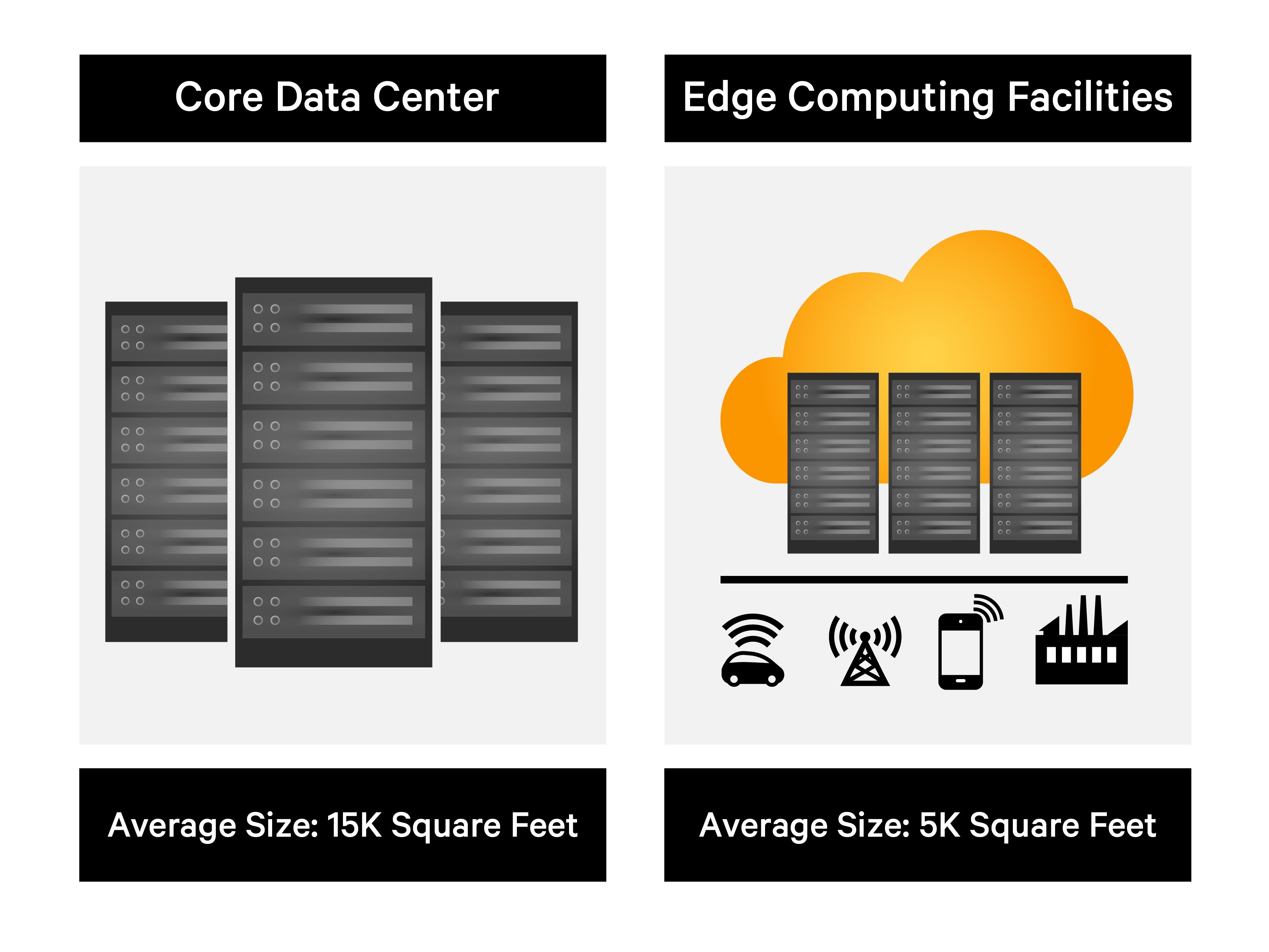 This equipment enables users to create a data center in any space available. For example, schools can deploy modular units at edge sites or on campus. Even a hallway will do.
Integrated infrastructure is pre-validated and ready to deploy in days, so there's no need to design solutions or integrate components. They are secure, all-in-one units that have a compact design and integrated fire suppression systems, making them ideal and safe for a wide range of spaces.

Micro data centers offer powerful computing capacity in a small physical footprint. For example, a healthcare facility or hospital might deploy a micro data center to power telehealth applications.
These all-in-one solutions combine power, cooling, monitoring, and racks and can be deployed inside or outside a building – or even serve as one.

Prefabricated Modular Data Centers
When more compute or flexibility is needed, IT can deploy a prefabricated modular data center that is easily assembled on site. With powerful compute, these data centers can be used to enable any business-critical process. Examples include data centers for critical government infrastructure used for border, energy, and water management.
These solutions are pre-engineered, assembled, integrated, and tested, meaning they're low-risk and fast to implement.

Other Edge Computing Considerations
You're on your way to designing and developing your edge infrastructure. You understand your application needs and types of sites, and the technology you'll be deploying.
You can use reference designs to speed technology deployment. Before you choose your infrastructure, there are some other key issues you should consider, including edge site processing efficiency, sustainability, energy consumption, and hidden costs to operate. Let's take a look.
Designing Edge Infrastructure
Designing the infrastructure for an edge application can seem daunting. Compute needs, physical environment, power and thermal management requirements, physical security, and remote monitoring and management capabilities must all be considered. Then, there is the tricky issue of future-proofing technology. Edge standards and devices are changing rapidly. Making the wrong decision could mean that you could need to re-invest in IT sooner than expected if you don't design for growth and scalability.
In addition, if you don't have an IT team at the ready, you may need to navigate research and purchasing decisions yourself.
Fortunately, vendors are simplifying and standardizing the buying process. They may offer reference designs, which provide recommended solutions to accomplish specific goals. They typically provide racks with integrated cooling, intelligent power distribution, and backup power supplies. Other components will vary, based on the application requirements. They also can be customized with additional devices and services.
Reference designs provide an all-in-one expertly crafted solution to address common challenges in various environments. Each design can be tailored to individual needs to meet unique business needs. Installation and maintenance services are also available to streamline deployment and to provide peace of mind over the life of the products.
Reference designs provide fast access to edge computing, so that an IT partner can minimize deployment time, protect critical infrastructure, and connect to remote IT monitoring.

Edge Efficiency and Sustainability
As the world grapples with the impacts of climate change, edge computing can guide the way to more efficient, sustainable processes. Although there are some gains to be achieved with processing, the edge's greatest contribution will be in providing insights that help industry optimize processes at scale.
Cloud computing is already is far more efficient than most people know thanks to technology advances, including the development of hyperscale computing and optimized power and thermal management systems.
From 2010 to 2018, the demand for data center computing (cloud and on-premise) was five times the expected growth. And by 2018, 89% of all compute instances were hosted by cloud data centers. Despite this torrid growth, the world's data centers only consumed 205 terawatt-hours of electricity, or just 1% of the world's electricity in 2018, according to Data Center Knowledge.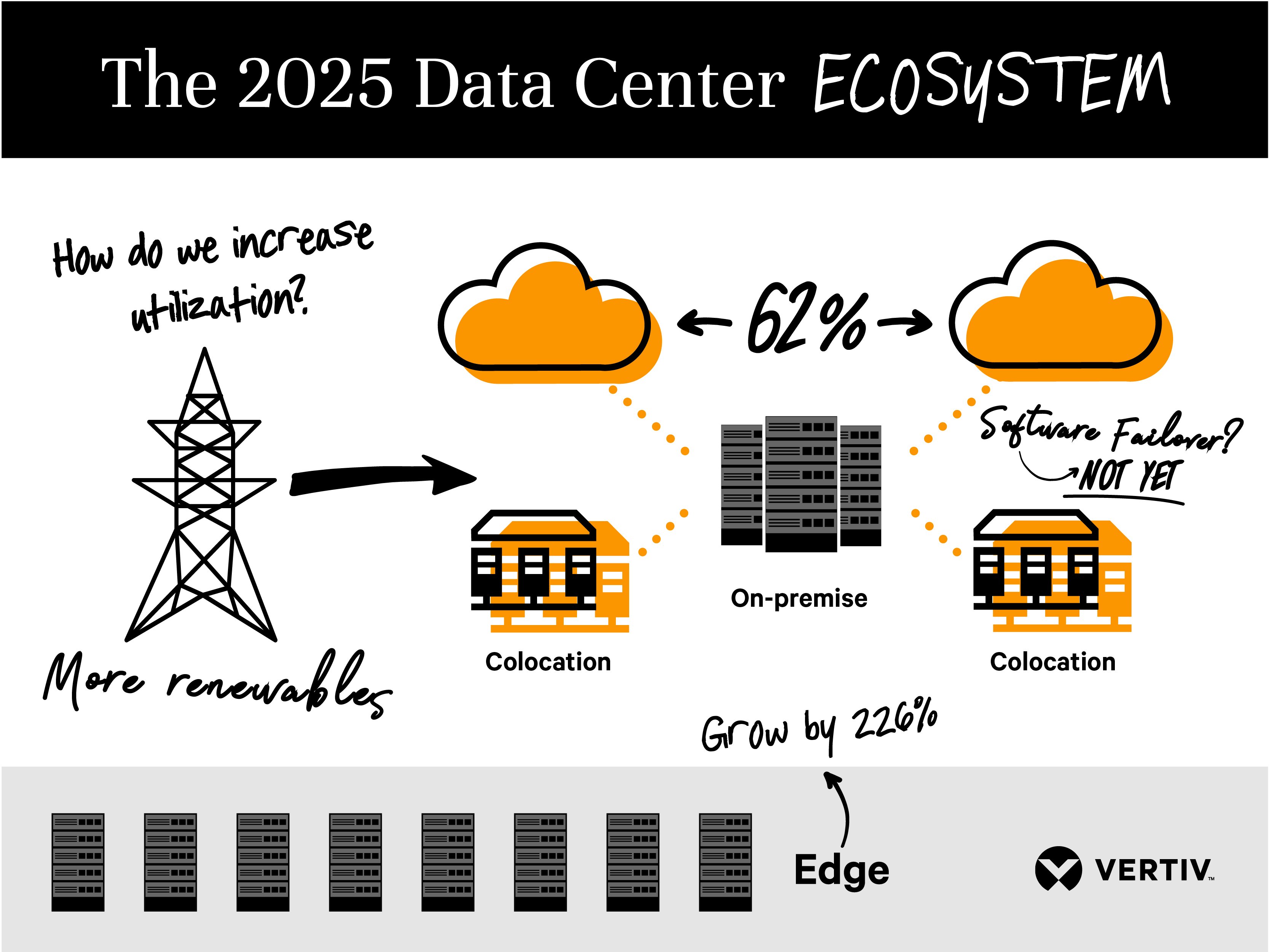 Source: BusinessWire/Vertiv
But edge can push those gains further and faster. Consider these benefits:
Edge Computing Increases Efficiency
Data is processed and stored at the source:

This eliminates the need to transfer data to the cloud, making processing more efficient and reducing energy consumption.

Edge can be used to extend or replace IT infrastructure:

Organizations now have a choice as to whether to contract their computing needs to off-site cloud vendors or to deploy IT infrastructure within their edge sites. As a result, they gain flexibility and can align workloads to meet key goals and requirements.

Edge sites can be managed remotely:

Powerful remote monitoring and management capabilities enable IT teams to configure, update and troubleshoot devices. With out-of-bound management capabilities, they can perform these functions even when corporate networks are down.

Liquid cooling gives edge operators more options:

Edge computing often enables high-performance workloads such as data analytics and ML. This increases the number of racks required, causing temperatures to exceed the cooling capabilities of traditional air-cooled solutions. Liquid cooling can effectively maintain temperatures, even in edge sites that lack water supplies.
Edge Computing Increases Sustainability
Edge sites use hardware that's already available:

Hyperscale computing centers thrive on using the most advanced technology. Edge computing often utilizes mainstream technology, including servers, smartphones, operational technology such as production equipment, desktop computers, and internet gateways. It's likely you already have some of the components you need to get started with edge.

Edge applications provide powerful insights:

IoT/edge applications water leaks, unoptimized processes, and other issues that could save billions of dollars and reduce carbon emissions. For example, U.S. commercial buildings waste 30% of the energy they use, according to the U.S. Department of Energy. So reducing that waste with IoT and edge computing can contribute to a greener planet.

Edge computing enables systems of intelligence:

Edge computing enables large-scale applications such as supply chain and grid optimization or energy demand management, which can provide organizations with tools to streamline processes and minimize energy consumption, even from renewable energy sources. That's important because many organizations have committed to being carbon-neutral in the coming years.

Purpose-built infrastructure can optimize power and cooling:

Infrastructure companies have developed all-in-one systems, such as integrated rack solutions and modular data centers, to reduce power consumption and improve cooling efficiency. That means your technology wastes less energy, while still remaining protected from heat, moisture, and other environmental conditions.
Managing Energy Costs
As telecommunications companies deploy 5G networks, they will be rolling out millions of servers in smaller edge data centers. As a result, they need to address energy efficiency at scale. Telco energy costs already account for 5-7% of their operating costs, finds STL Partners. Now, 5G will increase those costs.
According to STL, telcos can drive energy efficiency by implementing the following best practices:
Implementing advanced network technology: Deploying hardware and software designed and operated for efficiency.
Extending the edge: Implementing new edge data centers to support cloud-native IT.
Optimizing infrastructure management: Measuring, monitoring, managing, improving, and automating key processes.
Enhancing investment processes: Taking a holistic, lifecycle view of costs and investments.
Working with others: Adopting innovative commercial models and standards through collaboration.
Empowering customers: Leading by example, telcos can demonstrate how customers can develop 5G-enabled services to reduce carbon emissions.
Setting good governance: Telcos can use public commitments, strategic partnerships, effective policies, incentives, workforce targets, and key performance indicators (KPIs) to drive change.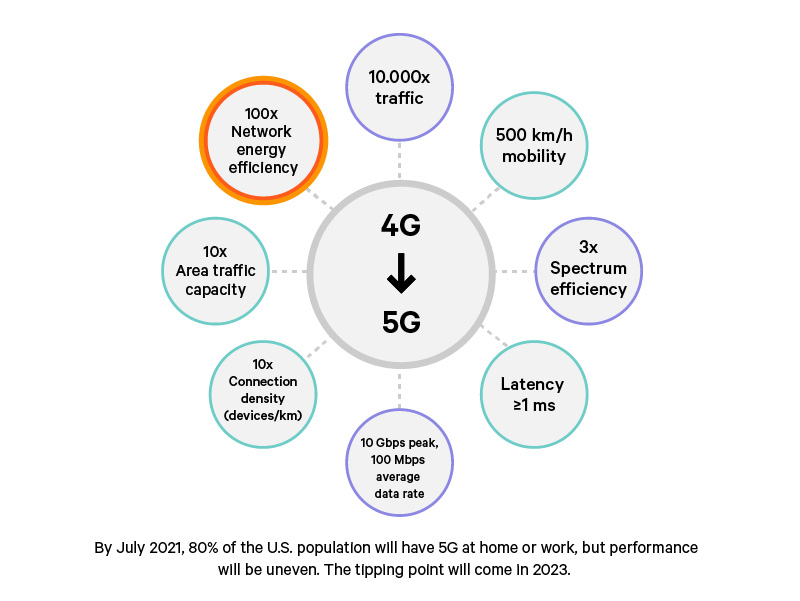 Source: PWC