Edge computing is by nature distributed, and can take shape in the form of many data centers. Dialogue on this topic is growing exponentially, and credible conversations can help uncover opportunities to deliver more value to a customer.
Where is the demand coming from?
According to research by Vertiv and IHS Markit Technology (OMDIA), here are some demand drivers for edge computing needs:
Latency sensitive applications that provide immersive experiences – nothing like an occasional "spinning circle" to disrupt a captivating K-12 educational stream
More data processed closer to the location it is generated – to save costs from additional bandwidth charges, and stretch budgets further
Industrial applications with real time components – which would require additional local/Edge computing and infrastructure
Smart city and public safety – State and Local use cases that need to process large data sets for AI facial recognition or sentiment detection, would need local edge computing resources
Rollout Timelines for Opportunities
Deployment timelines for edge applications would depend on the IT budget and technology involved. Early IT, surveillance, gaming and smart city deployments were essentially extensions to existing technologies. Later deployments for applications such as AR/VR or Autonomous Vehicles would require additional innovation and/or more widespread investments.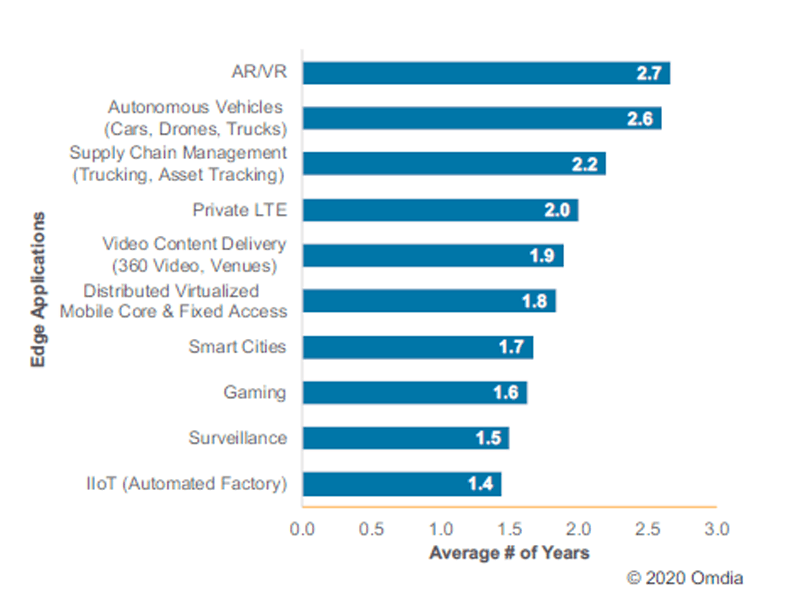 Here is a chart showing estimated average deployment time for some Edge applications
Our advice? Best to start small with a single geography or a single customer, such as a medium sized city or a mining operation, as there may be a long investment road ahead to achieve a fully deployed edge.
Preparing Your Customers
How infrastructure is set up, and how you prepare your customers, can have a material impact on their IT budgets and outcomes. Here are some challenges that they may be facing, and potential solutions for your customers.
1. Limited Personnel
Customers are asked to manage more sites with less resources, which may leave room for security risks. The average cost of a data breach in 2020 will exceed $150 million[1] – a hefty dent on the bottom line. This challenge is now amplified in the current environment. Here are some possible solutions that can help address staffing challenges, efficiently and securely:
Networked products with remote monitoring or networking capabilities
Site management software
Remote access and control
Environmental sensors
Service packages to ease product maintenance
2. Outdated Technology
IT professionals working with existing data center and networking infrastructure often struggle with outdated technology, which may increase the risk of security breaches. Here are a couple of tips to help address this:
Look for manufacturers that offer programs to ease the upgrade process and stretch a customer's IT budget such as the Vertiv Trade-In programs for UPS and Remote Access equipment
Government-related programs are available in Federal and Education sectors – be sure to partner with a manufacturer that is familiar with these programs to provide the best advice for customers
3. Facility Access
In some applications, your customers will have multiple staff members entering and leaving their edge locations, and accessing the same racks – this can have significant implications on security and business continuity. Did you know that human error can be attributed to 22% of unplanned data center outages?[2] Here's how you can help:
Find a well-built rack cabinet that can be securely locked – and for extra protection, look for racks that can be individually keyed
Monitoring accessories, such as door position sensors can provide IT managers with more control
Install security cameras to monitor on-site access
What's Their Edge?
Whether it is a government agency looking for guidance on Smart City projects, or an electric vehicle manufacturer looking to optimize day-to-day operations, we are here to work with our channel partners to be the trusted advisor on the Edge, whatever that may look like for your customers.
For more details on the solutions in this article, please reach out to our channel team. We hope you can join us for our next webinar with OMDIA on June 25th - Preparing for the Post-Recession Data Center Market: What You Need to Know. Click here to register!
[1] https://www.cybintsolutions.com/cyber-security-facts-stats/
[2] https://www.vertiv.com/globalassets/documents/reports/2016-cost-of-data-center-outages-11-11_51190_1.pdf
---